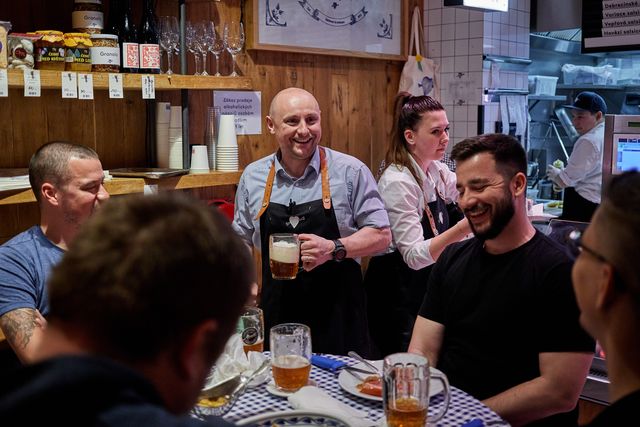 No great story starts with a salad… And you can bet that there won't be much salad at this dinner. We will be lowering our table from the ceiling again from Mondays to Wednesdays, always at 7pm and you can look forward to a true meat feast. You can only reserve the whole table for 6 guests, which can be done through GoOut.cz where all the available dates are listed. Come hungry!
Did you receive a dinner voucher? Write us at radek.chaloupka@ambi.cz and we will find a solution.
Naše maso
Dlouhá 39
110 00 Prague 1
T: +420 222 311 378
You can reach us by telephone from Monday to Friday between 8 and 10 a.m. Or write to us at ereznictvi@ambi.cz – we will answer within 24 hours.
We accept:
Ticket Restaurant, Gastro Pass, Cheque Déjeuner
We do not take reservations
Show on map
Opening hours butchery
| | |
| --- | --- |
| Mon–Thu | 11.00-22.00 |
| Fri–Sat | 10.00-22.00 |
Opening hours Passage
| | |
| --- | --- |
| Mon–Fri | 08.00-18.00 |
| Sat | 08.00-16.00 |